~ A Life Remembered
When I was asked to write a memoir for Dr. Cooper, I was both honored and baffled. Honored to be considered worthy of this project. Baffled by the task of distilling such a "larger than life" personality down to a short article. What follows is my collection of thoughts about the good doctor.
To illustrate the veracity of the "larger than life" comment here is a brief bio from a Dr. Cooper article entitled Terrorism and Espionage in the Middle East published by Mellen Press:
Dr. H.H.A. Cooper is president of Nuevevidas International, Inc., a Texas Consulting company specializing in safety and survival issues. He teaches both graduate and undergraduate courses at The University of Texas at Dallas. He directed the National Advisory Committee Task Force on Disorders and Terrorism, 1974-1977, and was the Director of Criminal Law Education and Research Center (CLEAR) and Deputy Director of the Center of Forensic Psychiatry of New York University. Dr. Cooper is the author of many works dealing with terrorism and other manifestations of extraordinary violence.
I first met Dr. Cooper in early 1976 when I was invited to join a small group of instructors to help present a hostage rescue course for the International Association of Chiefs of Police. At the time, Dr. Richard Kobetz was the Assistant Director for IACP, in charge of their training division. With my first introduction to Tony, it was obvious he possessed a brilliant mind and a broad expanse of knowledge acquired through his voracious appetite for research, as well as his own experiences.
Over the next several decades Dr. Kobetz put together many training programs addressing issues in the fields of law enforcement, security, terrorism, hostage rescue, and most notably Personal Protection. I was privileged to join Dr. Kobetz and Dr. Cooper for several of them. We became colleagues, associates, and I am proud to say, personal friends. I miss them both very much as they have had a tremendous influence on my career and my life.
I remember the presentation of the hostage rescue class in Miami Beach, Florida when Dr. Kobetz arranged to have a busload of police executives "captured" by the Miami/Dade County SWAT team who played the part of a terrorist group. A group of students was assigned the task of managing this training incident. Dr. Cooper was identified as the leader of the terrorist group and it was announced that he would be arriving on the scene to represent the group's demands.
In typical Kobetz/Cooper manner Tony arrived by helicopter, landing beside the "captured" bus. He strode out of the copter and immediately began making demands, speaking only in Spanish. The students faced their first unanticipated hurdle as they began scrambling to find someone who spoke Spanish and could interpret the negotiations.
I remember watching Tony mesmerize audiences with his wit and charm, on the fly so to speak. He was especially adept at filling in for other instructors at the last minute. He would stride up to the front of the group and begin talking, without advance notice or preparation, and his presentation would flow so smoothly you would never suspect he hadn't prepared for this event.
On one occasion, the NLA annual conference was being held at the Greenbrier resort in White Sulfur Springs, WV. The scheduled speaker was unable to make his appearance due to a last-minute schedule mix up. Dr. Cooper was asked to step up and save the day, so to speak. He began to speak for a few minutes and without warning he looked at me in the audience and invited me to join him up front. We had spoken about doing a tag-team presentation some day and apparently, he thought this would be a good time to do that. I was as nervous as the proverbial cat in a roomful of rocking chairs. But, for the next hour or so, Tony lobbed soft lead-ins for me to respond to and it went off without a hitch.
When Dr. Kobetz created the Providing Executive Protection training course he asked me to be a member of the original teaching staff. I happily accepted and thus began my association with EPI. One of my greatest honors was to be included in the discussions between Dr. Kobetz and Dr. Cooper that led to the formation of the Nine Lives Associates.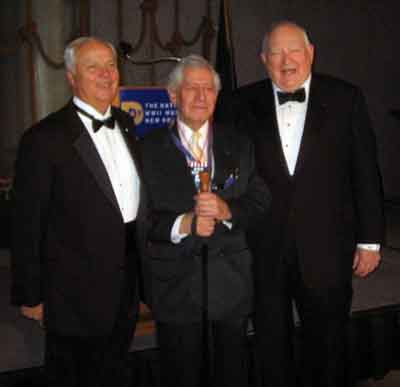 Despite his notable intellect and depth of knowledge on very serious topics Tony could be rather mischievous, even impetuous on occasion.
One such occasion that stands out in my memory occurred at North Mountain Pines, Dr. Kobetz' residence in Winchester, VA. Dick had a railroad caboose on his property. The caboose served as his office and guest quarters for overnight visitors. During an informal gathering of some of Dick's cohorts around the caboose, a member of the group was standing on the rear porch of the caboose with a bottle of beer in his hand. Without warning Tony took aim and fired a shot from a pellet pistol, hitting the bottle which exploded, leaving the neck of the bottle still in the grip of the astonished person holding it.
I had a later occasion to share the guest quarters with Tony on one of my visits to North Mountain Pines. I did not get a wink of sleep the entire night. 😊
The most bitter-sweet example of how impetuous he could be, was when one day Tony decided to relocate from Dallas TX to Greater New Orleans LA. Without prior notice he arrived in Gretna, LA and announced he had come to spend his final days among his friends there.
Fortunately for Tony, and all the rest of us, Jason DiMarco stepped up and became the unofficial guardian for Dr. Cooper. For the next several years Jason looked after Tony, establishing his living arrangements, visiting with him, sharing dining dates, and providing transportation to the training classes Tony continued to present to the officers of the Gretna Police Department. I was able to remain in touch with Dr. Cooper through the efforts of Jason. Thank you so much for that Jason. It was my honor to present this brief synopsis with some of the excerpts in the life of Dr. H.H.A. Cooper. I will always treasure his welcoming me into his life. May he rest in eternal peace.
Gene Ferrara PPS, CST
Chief Instructor at Executive Protection Institute
Nine Lives Associates Member #3